The bicycle route encyclopedia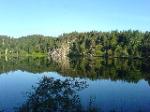 Kristiansand - Lysebotn: Morgenstund på Eikeland Cyclopedia.no is a web site dedicated to the sharing of bike route information. Each route is described with directions, maps, photos, and profile. If a GPS log is supplied, there's also an interactive map of the route with satelite photos. Route information can be downloaded to your computer and viewed in Polar Precision Performance or transfered to a Tacx Fortius/i-Magic roller.
The latest five routes are shown below. Other routes can be found by searching or selecting a country from the menu to the left.